Work Exclusively with Responsible Breeders
We value being part of a family of breeders and enjoy visiting their homes, seeing the puppies parents, and seeing first hand how much love goes into each little puppy. Our trusted breeders understand how important it is for dogs to be socialized and shown affection from birth. They nurture a strong human bond with their puppies and their parents. Our family of breeders shares a high level of integrity and belief that animal welfare should always be the top priority.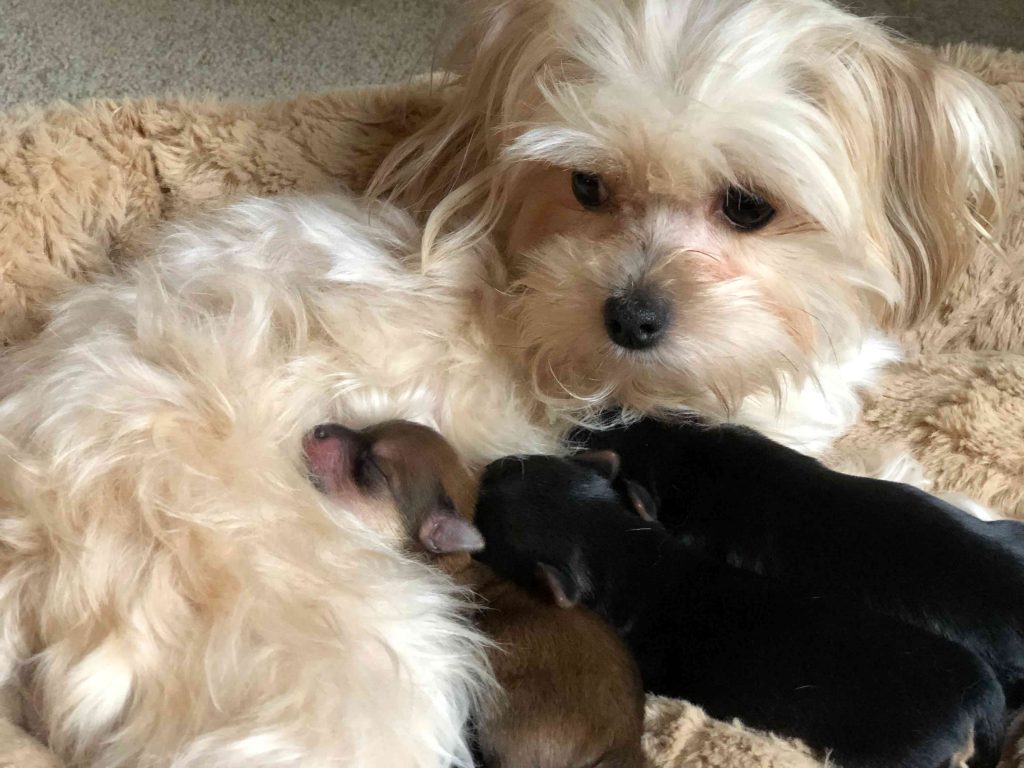 RESPONSIBLY RAISING THE BAR
We care deeply about where our puppies come from. We make an extra effort to partner with breeders, whose practices emphasize quality, care, and responsibility. Watch the video below to see how we've taken additional steps outside of the Dog Club and behind-the-scenes to provide our clients with an adoption experience unlike any other.
10 Year Health Guarantee
Offering our clients a memorable adoption experience; our 10 Year Health guarantee comes with every pup.  If there is something that later comes up as a hereditary or congenital concern, you will have the peace of mind in knowing that we will stand behind your puppy. Welcoming a new family member into your home is an exciting journey, and we want to provide you with the utmost confidence in your adoption.
Shipping Restrictions
All puppies are sent via commercial airline. We will only fly our puppies into an international airport and reserve the right to refuse the flight services if we are unable to get a direct flight or do not feel safe with the circumstance. Charlotte Dog Club has no affiliation with Delta and Continental Airlines and is not responsible for delayed flights, cancelled flights, re-routings & overnight kenneling. Once the puppy is tendered at Charlotte Douglas Cargo Facilities, we have no additional control over the delivery of your puppy.
We ship 2 times per week.  These days are typically Thursdays & Sundays.  Sometimes (depending on the Cargo facility hours) we will make exceptions to ship another day.  If you designate an airport Delta service with Live Animals, we will find the best flight for your puppy on one of the days we ship.  We must stay within the guidelines of Delta and American Airlines & use the airports they service, within the times they allow.  Not ALL FLIGHTS are available for live animal cargo
Restrictions are as follows:
1. Snub Nose/ Bulldog puppy restrictions:  The airlines take very precautionary steps to make sure these puppies fly safely.  We must follow their guidelines.  This may cause a flight to be changed, delayed to a different day, or moved to a different airport.  Please know, the puppy's health is our #1 priority before anyone's schedule.
2. Dash Shipments:  A small percentage of airports are Delta Dash during certain hours.  Typically, these belong to the smaller airports.  For Dash, if the ONLY flight option for your puppy falls within the Dash Shipment category, we may be required to charge an additional small fee to cover the shipping. Dash Shipping will not be below $50 nor exceed $100.
3. Canada Customers:   Sometimes we must charge a bit more to ship a puppy to Canada (depending on the airport & time of year).  Please understand, if you're a potential customer in Canada & want your puppy shipped for the price you've paid in US Dollars…. it's a case by case basis.
4. Weather:  (Usually only applicable in the heat of summer or coldest winter months.) Airline regulations will restrict live animal shipments sometimes.  The regulations change about as quickly as the weather does!  We ship out of CLT – Charlotte, NC & the Cargo department treats us very well.  Please understand we want to get you your puppy as much as you do, however, sometimes we are denied shipment due to a national regulation made by the airline.  Also, different receiving airports have different restrictions & hours.  It's always going to be a case by case basis here as well.  Shipping restrictions can even be made by the pilot, 5 minutes before takeoff. If he/she feels the plane is too heavy due to baggage or there are weather concerns, they can choose to remove the live animal cargo from the flight. If one of these types of issues happens, please do NOT blame us, it is out of our hands.
The Club Commitment
It is our promise to put your puppies welfare as our top priority.  That is why we have 24 hour on-site team members to care for your puppy everyday. We are committed to ensuring your new puppy is healthy and ready to join your family.